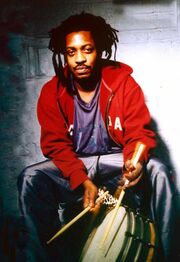 Steve Jordan is a poly-instrumentalist, composer, and musical director (MD) from the USA.
Jordan is best known as a drummer, having been a member of several bands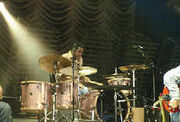 and ensembles such as Eric Clapton's band and the John Mayer Trio.
He is also a producer has recorded with many artists such as Don Henley, John Mellencamp, Andres Calamaro, Cat Stevens, Bob Dylan, Sonny Robins, BB King, Stevie Nicks, Neil Young, Sheryl Crow, John Spencer Blues Explosion, and many many more. He is also featured on James Taylor's 1998 DVD, Live at the Beacon Theatre.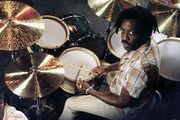 Steve Jordan also formed a band along with his wife. They were named the Verbs, and have featured Pino Palladino (the John Mayer Trio's bassist,) on bass and Tamio Okuda on lead guitars.
Ad blocker interference detected!
Wikia is a free-to-use site that makes money from advertising. We have a modified experience for viewers using ad blockers

Wikia is not accessible if you've made further modifications. Remove the custom ad blocker rule(s) and the page will load as expected.