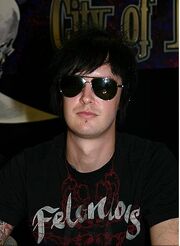 James Owen Sullivan, or The Rev, was the drummer for Avenged Sevenfold. His other nicknames are Rat head, The Reverend Tholomew Plague (shortened to the Rev), and Jimmy Sullivan. He was born February 9, 1981 in Huntington Beach, CA. His influences were Vinnie Paul, Mike Portnoy, Dave Lombardo, Lars Ulrich, and Terry Bozzio. The Rev was also a vocalist, songwriter, and pianist for Avenged Sevenfold. He died on December 29, 2009 in Huntington Beach, CA. His drum kit is now on display at the Hard Rock Hotel in Las Vegas.
The Rev died on December 29, 2009. His death was ruled to be from an overdose of Oxycodone. According to the coroner, he also had a heart condition that may have played a role in his death. The band's motto is "Avenged Sevenfold FoREVer". Rev, capitalized, to remember Sullivan.
Discography
Edit
Suburban Legends
Edit
Pinkly Smooth
Edit
Avenged Sevenfold
Edit
1999 Demo (1999)
2000 Demo (2000)
Sounding the Seventh Trumpet (2001)
Waking the Fallen (2003)
City of Evil (2005)
All Excess (2007)
Avenged Sevenfold (2007)
Live in the NBC and Diamonds in the Rough (2008)
Nightmare (2009) (Posthumous)
References
Edit
Ad blocker interference detected!
Wikia is a free-to-use site that makes money from advertising. We have a modified experience for viewers using ad blockers

Wikia is not accessible if you've made further modifications. Remove the custom ad blocker rule(s) and the page will load as expected.